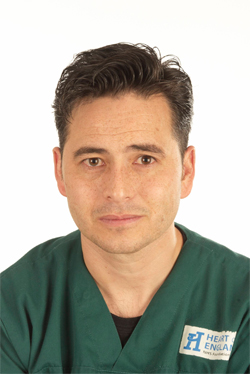 Dr Steve Taylor (FRCP, PhD) is the Lead HIV Consultant at Birmingham's Heartlands Hospital and Honorary Senior Lecturer at the University of Birmingham. He trained in General Medicine and Infectious Diseases at Birmingham Heartlands Hospital (BHH) during which time he obtained his MRCP and Diploma in Tropical Medicine. Shortly after he specialised in HIV and Genitourinary Medicine.
From 1999 to 2002 he won a three-year NHS Research & Development 'Sheldon Fellowship', and became a Clinical Research Fellow in the Health Protection Agency Antiviral Susceptibility Reference Unit within the Division of Immunity and Infection at the University of Birmingham. He obtained his PhD thesis in December 2002, entitled 'The Sexual Transmission of HIV'.
Dr Taylor was elected to the British HIV Association (BHIVA) executive committee in 2003. He was invited onto the scientific committee of the International Workshops on HIV Clinical Pharmacology 2004 (Rome), 2005 (Quebec), 2006 (Lisbon) and 2007 (Budapest). In 2006 he was invited onto the scientific committee of the 1st International Workshop of HIV transmission (Toronto). He also sits on the Medical Advisory boards for HIV i-Base and AIDs treatment update, and teaches and lectures regularly to HIV-positive patient groups, as well as delivering 4 national courses on HIV drug Resistance and pharmacology yearly.
In addition to his role as Medical Director of the national HIV testing awareness charity, Saving Lives, He is a Tri Service Consultant Advisor to HM Armed Forces and for the last 4 years has chaired the clinicians group for the DOH development of the HIV outpatient tariff.
He is West Midlands Media representative for the British Association of Sexual Health and HIV and regularly appears on television and radio to comment on issues pertaining to sexual health and HIV.
Outside of medicine, he is a level 1 qualified FA football coach and coaches the Leamington Juniors under 9s football team.