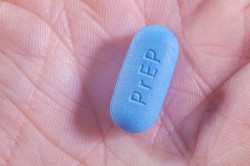 Pre-Exposure Prophylaxis (or PrEP for short)  is a course of HIV drugs which can be taken before sex in order to limit your changes of contracting HIV. Much research has been undertaken which has demonstrated the effectiveness of PrEP in restricting onward transmission of HIV. Many doctors hope that its use will one day be standard.
In March 2016, the NHS announced it had did not have any plans to offer Pre-Exposure Prophylaxis, or PrEP, to patients. In a nutshell, this was because NHS England considers PrEP a preventative measure – and because of how money is allocated in the NHS this means that it believes local authorities, who are responsible for disease prevention, should provide it.
For some years, patients in the United Kingdom have had access to PrEP through the PROUD study. This was a research project aimed at assessing the effectiveness of PrEP. As the PROUD trial comes to an end, however, many will not be able to continue to receive their PrEP drugs through the NHS.
The excellent online resource for people living with HIV, i-Base, has produced a very useful leaflet on buying PrEP online. You can download it in PDF format by clicking the thumbnail below.
Buying PrEP
Pocket Guide:
PrEP