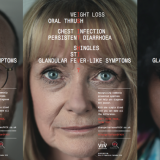 Today sees the launch of the HIV Awareness in Primary Care (HIVAP) campaign. Developed by the HIVAP group, a taskforce of leading GPs with expertise in HIV and sexual health, its aim is to engage GPs in greater levels of HIV testing.
One in five of those with HIV in the UK do not know they are infected, and late diagnosis continues to be a huge risk to the health of an individual living with HIV. Today's treatments mean people can live long and full lives with the virus – and yet low levels of testing can mean people do not receive treatment until they are already much more ill than they need to be.
Funded and supported by ViiV Healthcare, HIVAP is to be piloted by member practices of NHS Southwark Clinical Commissioning Group (CCG). The project will be rolled out to further locations in 2017.
"There are barriers holding GPs back from testing for HIV. They may not think it's a problem in their area, or be unfamiliar with the signs and symptoms. Or they may be concerned about the reaction of the patient when being offered the test, or what to do if it comes back with a positive result," said Dr Jonty Heaversedge, GP and Chair of NHS Southwark CCG. "As part of the campaign's Southwark pilot, we are working with GPs to raise awareness about when to test and how to talk about it. Our message to GPs is simple – when you see unexplained signs and symptoms, don't think twice, think test."
The project is being launched alongside a film, Change the Face of HIV. You can watch this film, and learn more about HIVAP, at the project's website.