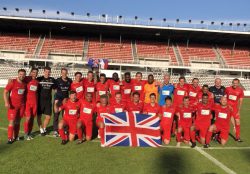 Congratulations to John Watson, a consultant here at the Heartlands HIV Service: as a member of the Great Britain Medical Football Team, he has just won the World Medical Football Campionship in Prague!
England may not quite have got to the World Cup Final in Russia, but Team GB did us proud in Prague. Our very own John even set up the winning goal against Australia in the team's semi-final.
Just so we can boast a little more, here are the team's results in full:
Group Stages
Hungary 0 | GB 1
(Hungary were seeded third from last year, and were beaten by GB for the first time in the history of the competition.)
Ireland 0 | GB 4
(This score is not a reflection of a tight game: Ireland are the only team to have beaten the excellent Czech Republic team in the last three years!)
Lithuania 1 | GB 3
(During this match, GB rested key players.)
Quarter Finals
Ukraine 2 | GB 2 (GB wins 7-6 on penalties.)
(Ukraine were the second seeds from last year. Up 2-0 at half-time, GB tired during the second half. In response, the GB manager changed the team's keeper at full time – and he went on to save a penalty and keeps the team in tournament!)
Semi Finals
Australia 0 | GB 1
(Check out the goal made by the left back at one hour, five mins on YouTube!)
Final
Czech Republic 0 | GB 2
(The Czech Republic have been the winners of the last three tournaments! GB's were two amazing goals, one in each half. Watch the whole game on YouTube!)
Congratulations again to John and the whole team!