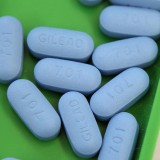 As the BBC reports this morning, alongside a great introductory video about Pre-Exposure Prophulaxis (or PrEP), the National AIDS Trust (NAT) has won a High Court ruling that is set to over-turn the NHS position on funding the "game-changing" treatment.
Some months ago, NHS England announced that it considered the provision of PrEP to be a preventative measure, and therefore the responsibility of local authorities across the country. This meant in effect that the NHS would not fund the treatment.
The High Court has ruled that this  decision was not correct, because the NHS does have a broad preventative responsibility. It has therefore suggested that the NHS look again at their policy. The High Court, although it has no power to decide whether the NHS should fund the drug, has said there is a compelling case for that policy.
In a statement online, the NAT said: "NAT (National AIDS Trust) is delighted by the judgment passed down in the High Court today that NHS England acted unlawfully in withdrawing PrEP, a game-changing drug preventing transmission of HIV, from its decision-making process.
"When, after 18 months of preparation, NHS England suddenly abandoned its work on PrEP, NAT considered it had no option but to challenge this through judicial review.  Today the court heard that NHS England's interpretation of the law was incorrect.  PrEP is urgently needed and has been shown to be cost-effective.  NAT has always believed that there is no legal impediment to PrEP being commissioned by NHS England and the court agrees."
The NHS may still appeal this decision, and the National Institute for Clinical Excellent is already assessing the effectiveness of PrEP – a measurement which will be important if the High Court's ruling that the NHS should take responsibility for funding the treatment if the evidence demonstrates it would be in patients' interests.
We will keep our patients updated on all developments, of course.