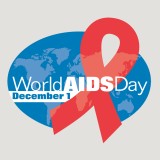 Birmingham will be marking this year's World AIDS Day with a number events on Thursday.
Saving Lives Big Red Double Decker Bus, across the city from 9am
The national charity Saving Lives will be paying a visit to Heartlands with their Big Red Double Decker Bus. The team, including some of our own staff and nurses, will deliver health promotion around Birmingham. The team will be engaging in health promotion with visitors and patients at Heartlands, then moving on to a variety of other Birmingham locations. For exact times and locations, visit the Saving Lives website here.
Celebration and vigil outside St Philips's Cathedral, Colmore Row, B3 2QB 18:55 (for a 19:00 start)
There will be a vigil held in the grounds of the Cathedral with music and 'stories from experience' from those who want to share, and a chance to remember and light a candle for those we have lost.
Gathering at The Bond, Fazeley Street, Digbeth, B5 5SE at 19:45
We all come together as a united community at The Bond, Digbeth, to reflect on 2016 and look to the year ahead.
We will be talking about and marking the significance and importance of World AIDS Day and the need to continue building and raising awareness to tackle stigma head-on.
There will be opportunity for members of the community to share their personal experiences and talk to professionals for advice and information.
Light refreshments will be provided, and red ribbons will also be available with donations sent to the National AIDS Trust (NAT).
Guest speakers to include Steve Taylor, Lead HIV Consultant, Heartlands Hospital.
For those who would like to attend both events, there will be a candlelit walk from St Philip's Cathedral to The Bond at approximately 19:30.
For further information please contact Birmingham's HIV support service, Swanswell.  Tel: 0121 633 1750 or supportingpeople@swanswell.org